In today's world we cannot deny the presence of youtube in our daily life. As per a recent study an average user spends around 40 mins in youtube videos daily. Wow… That's a lot considering the world population.
Now time for another piece of info.
At a marketing event, YouTube CEO Susan Wojcicki revealed that Youtube currently 2 Billion Active Users and 500 hours of content is uploaded in youtube every minute.
So a lot of people are investing their time and money in youtube. And many of us have made it their full-time job as YouTubers.
Now making a video is not at all an easy task nowadays. I mean yes its easy if we are doing it for our personal use. But making a video for others which would earn me some money is not at all easy. So many things are there to be considered like a good camera, a good location, useful content, SEO of the video, etc.
To become a successful Youtuber, one needs to have more and more number of subscribers and more and more number of views. There are quite a few YouTubers who have millions of views on their videos and earn thousands of dollars every day.
Now we will all agree that if we need to sell something, that product should be eye catchy and appealing to others. The same thing applies to Youtube as well. If we need more views on our video we need to make it appealing and enticing to the viewers. Here comes the work of thumbnails
What is a thumbnail??
A thumbnail is the static part of the video which pops into the suggested videos section on youtube. In other words, it is the first part of the video which we see before we click on the video to start playing. It is like the door of the video. We click on the thumbnail to enter the video. That's it.
So we understand how much importance the thumbnail plays. If the thumbnail is good, we will have more and more viewers to the video as it is already creating a curiosity in the mind of the viewer.
Designing a good thumbnail for the video is like doing 30% of the work.
It is really that much important.
Now, it is not easy to create a good thumbnail. You need to be really good at graphics and other software if you want to make a good thumbnail.
Or you can take the help of some professionals who will charge you anything from $5 to $200 for making a thumbnail for you.
Well Don't Believe me. Below is the screenshot
from a popular freelance site called Fiverr, where designers are charging an arm and leg for the same thing
To solve this problem and make your life easy, I have searched over the internet and got you one software. It's Called Instathumb. Yes you read it right. Instathumb. Which means instant Thumbnail.
Instathumb is a new software that is launched in April 2020. It is really an easy to use software which will require absolutely no technical know-how. You can create world-class HD Thumbnails with few simple clicks.
I have managed to get a trial access of this software and Am already loving it. No Exaggeration at all.
Check out the picture below to see some thumbnails created in Instathumb.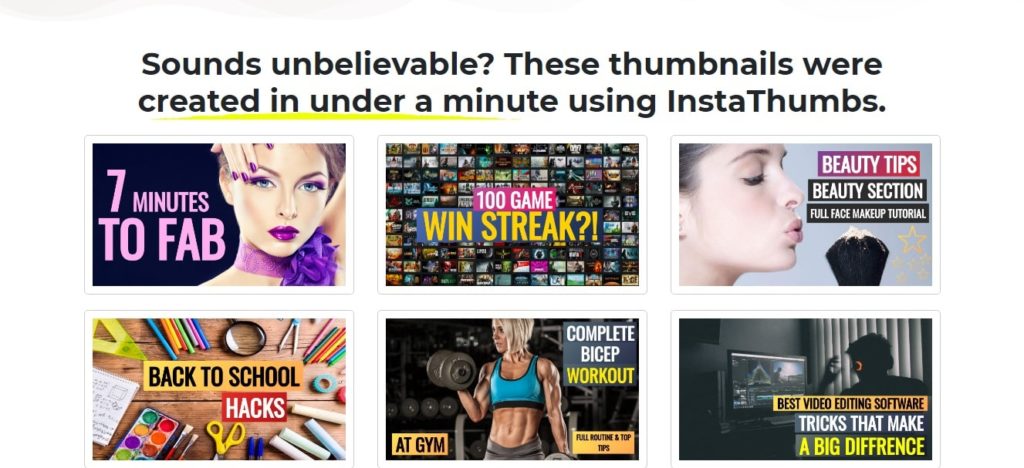 Do I need Custom Thumbnails For My Videos?
Video marketing works. Every marketer knows that by now. YouTube gets over 3 billion views a day and provides you with an unlimited source of leads and traffic.
But there are hundreds and thousands of videos for every keyword and topic, so your videos need to stand out in the search results and grab the viewer's attention.
What's the point of making videos if nobody sees it?
Thumbnails are usually the first thing viewers see when they search for a video. You have to make sure your video thumbnail stands out and gets the viewer's attention.
Custom thumbnails increase video views on youtube massively (374% more views)
It can mean a difference of 100 views and 100,000 views
Youtube's Creator Academy quotes that "90% of the best-performing videos on YouTube have custom thumbnails"
Makes your video stand out in Youtube search results and Google search results
Attractive thumbnails makes great first impression
More clicks on a video increases its ranking in search results
Features of Instathumb
(1) Super easy drag-n-drop thumbnail creator with zero learning curve – Just select a thumbnail template. Customize text and images and download your thumbnail. It's really that easy!
(2) Hundreds of designer templates – Freelancers will charge you anything from $5 to $50 to make thumbnails using similar templates. But now you can do it for free and create as many thumbnails as you want.
(3) Sticker and shadow effects – Create sticker and shadow effects used by Top Youtubers with just a single click. Make your videos stand out in the search results.
(4) Millions of images with our inbuilt image search – Search millions of images from sites like Pixabay, Pexels, Bing images and Google images on the go to create your perfect thumbnail.
5) Gradient text and callouts – Every thumbnail needs some text. Now add eye-popping gradient text and callouts to make your thumbnails even more attractive.
(6) Use your own fonts – Online editors are generally limited when it comes to font choices. But with Instathumbs you can choose any Google font you like to suit your brand.
(7) Professionally made Youtube backgrounds – Hundreds of super attractive professionally designed backgrounds that will catch the viewer's attention. They have been specially made to increase contrast in your thumbnails.
(8) Hundreds of icons, emojis and shapes – Make your thumbnails more attractive and unleash your creativity with hundreds of bundled icons, emojis and shapes.
(9) Thumbnails for every category – Ready-made thumbnail templates for the following niches: Funny, Video Game, How-To Guides / Tutorials, Product Reviews, Celebrity / Gossip, Vlogs, Sketch Videos, Shopping Sprees / Hauls, Unboxing Videos, Educational Videos, Parodies, Pranks
Below I have tried to make a Comparison between Instathumb and Other Providers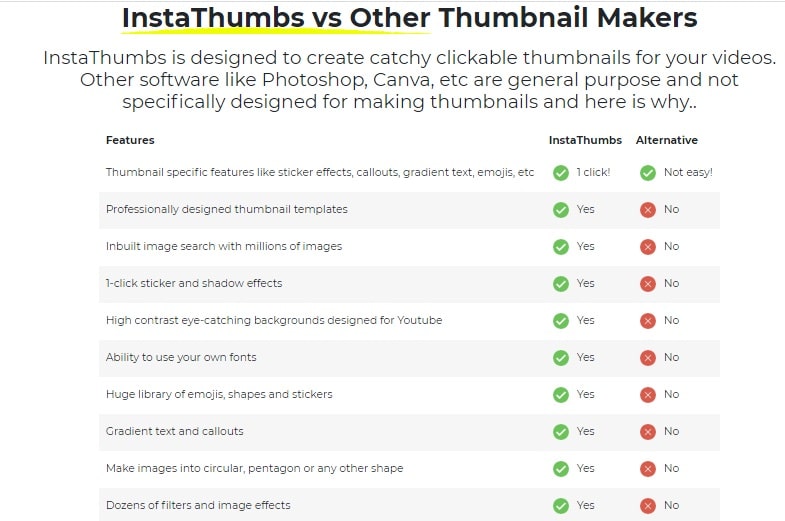 Finally Few Words from the Creator of Instathumb
My name is San Kumar. I'm a marketer just like you and I have a confession to make.
My primary source of traffic is videos and it's no secret that the amount of traffic and leads one can generate using Youtube videos is just amazing! But I must confess that I had to struggle a bit with video marketing in the beginning.
I had a rather random luck with my videos. Some videos generated thousands of views while some didn't even cross 100 views. So it got me curious and I started researching all the factors while contributing to what makes a video successful.
I did a lot of research into video marketing and read many tutorials and blogs and the number one thing that every top video marketer (including gurus like Brian Dean) suggested that the most important thing when it comes to videos is your Video Thumbnail.
Just to emphasize how important your thumbnail is, think how important a subject line is for an email. If the subject is boring then nobody will open your email no matter how great your content is. The same is true for videos. If you use a default thumbnail created by Youtube nobody will click your video and even if you spend a $1000+ on your video, what's the point if nobody will see it?
So with that in mind I decided to use custom thumbnail for all my videos. Unfortunately, I couldn't do it myself because software like Photoshop is super hard and tedious. There is such a huge learning curve that it didn't make sense to invest all that time and money into it (do you know Photoshop costs $500 by the way).
My other option was to find a designer or a freelancer to do it for me, but the cost of it turned out to be insane. I got quotes from $5 to $260 for a simple thumbnail. This would be okay if I had to do one video, but I make videos daily, so it was impossible to outsource.
I couldn't find any other way to do it and so I created a solution for myself and you.
After nearly months of research and development InstaThumbs was finally born.
While creating InstaThumbs I kept these things in my mind:
It should be super easy to use: There are many programs like Photoshop and Canva using which one can create any graphic but since those softwares are generic graphics editors it takes a lot of time and learning. With InstaThumbs every feature is designed to create thumbnails and it's so easy that a child can do it.
It should work everywhere: InstaThumbs is a cloud-based software so it works everywhere including Windows, Mac, Linux and not only that it even works on mobile phones and ipads. This is a must-have feature for digital nomads like me who want to work from anywhere.
Unrestricted use: I hate crippleware as much as you do. So whenever I release a software I want that my users should be able to take maximum advantage of it without any restrictions
No additional expenses: Some services charge you for images, others want you to buy additional software that costs hundreds of dollars. With InstaThumbs you have to do neither. With our inbuilt image search that searches millions of images to the inbuilt image editor for basic image editing – you never have to spend an additional penny on making thumbnails.
Catchy clickable thumbnails: What's the point if your thumbnails don't look good and boost views? Your thumbnails should look professionally designed and that is why we made hundreds of templates for you.
Below is the Actual price of the Entire package.
But Wait. As an Introductory Offer I have managed to get a lifetime deal for you If you decide to buy now and then you can get this complete package for a one-time payment of $37. Yes. You read it write. Only $37 for all these. But Keep in mind that I will not be able to hold this offer for too long as its an introductory offer. So Act Fast.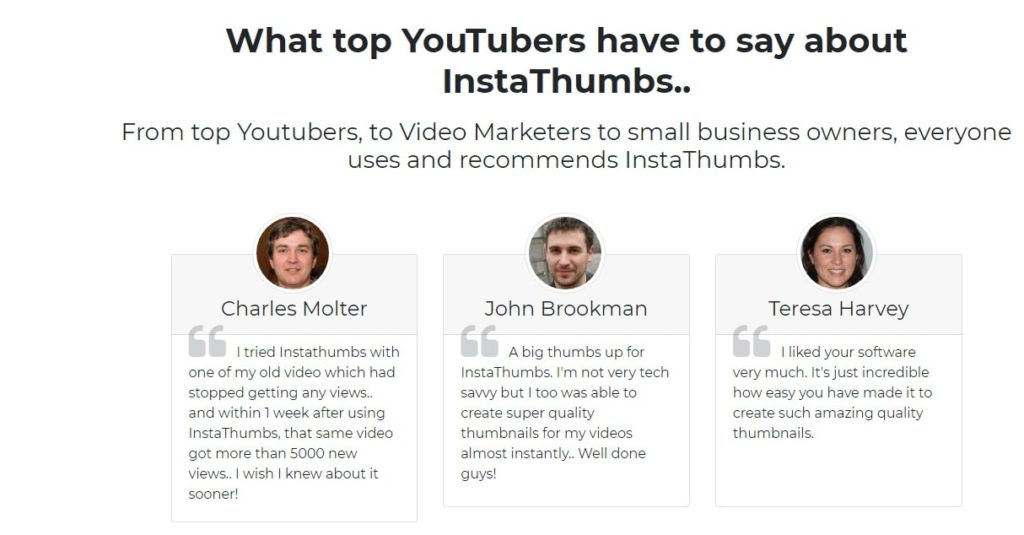 Still in Doubts?
Don't worry. If by any chance you don't like the product there is a 30-day refund policy.
One more idea to earn though this software – If you buy this, you can also sell your services of creating thumbnails like all other freelancers online… if you sell each thumbnail for $5 a pop, with just 3 sales a day, you're already clearing Up To $450 a month… Something to think of right??
Below Are All the Offers with Their Details.
(1) Buy Instathumb Software Lifetime Access and Support for a One time Fee of $37
(2) Get Unlimited Access to Instathumbs Templates. 100 Templates Now and 100 Templates every Month. Monthly Subscription $27 and Yearly Subscription $144
(3) Instathumbs Templates Pack of 100 Templates
(4) Instathumbs Software + AI Video Creator ( AI Video Creator is an Automatic Video Creator Software which will help you immnsely in creating super videos.